On Tuesday April 7th, in the midst of the COVID-19 crisis, the California Department of Motor Vehicles issued only its second fully autonomous vehicle testing permit to Nuro, which designs completely driverless vehicles specifically for delivery purposes. The new permit allows Nuro, which recently received a rare exemption from the Federal Motor Vehicle Safety Standards, to test two driverless vehicles, without human backup drivers, on public streets in designated parts of Santa Clara and San Mateo counties.
The vehicles, which are driverless, but also passengerless, have a maximum speed of 25 mph and are only approved to operate in fair weather conditions on streets with a speed limit of no more than 35 mph.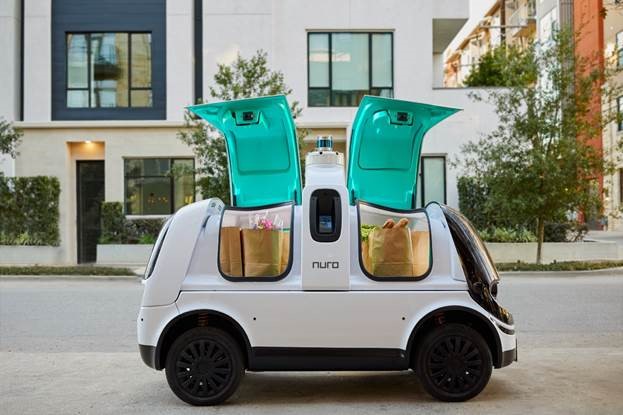 In order to receive a driverless testing permit, manufacturers must certify they meet a number of safety, insurance and vehicle registration requirements, including:
Providing evidence of insurance or a bond equal to US$5 million.
Verifying vehicles are capable of operating without a driver, meet federal Motor Vehicle Safety Standards or have an exemption from the National Highway Traffic Safety Administration, and is a SAE Level 4 or 5 vehicle.
Confirming vehicles have been tested under controlled conditions that simulate the planned area of operation.
Notifying local governments of planned testing in the area.
Developing a Law Enforcement Interaction Plan that provides information to law enforcement and other first responders on how to interact with test vehicles.
Continuously monitoring the status of test vehicles.
Training remote operators on the technology being tested.
In a blog post, Nuro tied the new permit to the fight against COVID-19, noting that autonomous grocery and food delivery can cut down on human to human contact and provide essential services to the most vulnerable. "Our R2 fleet is custom-designed to change the very nature of driving, and the movement of goods, by allowing people to remain safely at home while their groceries, medicines, and packages, are brought to them."
Nuro plans to begin free delivery service to select customers in Mountain View with the goal of obtaining a full statewide commercial permit in the near future.
Subscribe and stay updated
Receive our latest blog posts by email.