1. Rage against the machine(s)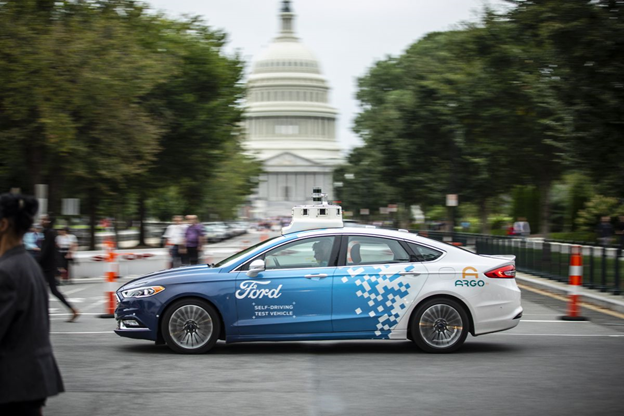 Donald Trump doesn't use a computer. He doesn't send or receive text messages or emails, preferring instead to annotate print-outs and have aides send scanned copies. He doesn't carry a cell phone, but he sometimes consumes media on a tablet, which his handlers know as "the flat one."
Sure, Trump may be living an analog life, but his administration isn't.
Indeed, autonomous vehicles—at once the world's most audacious and least-trusted form of artificial intelligence—have in Transportation Secretary Elaine Chao one of the technology's most committed cheerleaders.
Just last week, Chao, whose practiced light-touch has allowed the technology to flourish, announced the creation of a new commission within DOT tasked with promoting emerging transportation tech like self-driving cars. So great is her zeal for driverless cars that it could lead a reasonable observer to assume her boss is of the same opinion. Apparently not, according to a report from our friends at Axios:
In private conversations, Trump has expressed extreme skepticism of autonomous vehicles.
In at least one exchange, the president reportedly said: "Can you imagine, you're sitting in the back seat and all of the sudden this car is zig-zagging around the corner and you can't stop the … thing." In another, the president said AVs "will never work."
Setting aside the obvious irony that someone who's exclusively chaffeuered doesn't want to surrender operation of a vehicle to a more capable driver (at least in the case of true autonomy), the president's newly reported view begs the question whether his doubts over autonomous vehicles will infect the rest of the federal government.
Before you scoff, remember that the president has set policy—often to the surprise of government—with nothing more than a tweet, including personnel changes (FBI director, secretary of state), military policy (transgender troops) and government contracts (Air Force planes).
Exit-question: how long until a Fox News segment inspires Trump to direct Chao on Twitter to look into these "out of control death traps?"
The Driverless Commute is provided by Dentons' global Autonomous Vehicles team. If you believe a colleague or associate would benefit from this service, please share this link so they may subscribe.
2. Automation anxiety
Shot: New York is finally getting its own self-driving shuttle service
Chaser: Transit unions are drawing up a plan to confront autonomous vehicles
The Transportation Trades Department of the AFL-CIO, the largest labor union federation in the United States, said in a new policy manifesto this week it would work to combat job loss due to automated vehicles, hoping to flex negotiating muscle in the collective bargaining process to insulate transit workers from user loss or AV modes.
Specifically, the TTD wants congress and the administration to:
Require transit agencies to give advance notice to employees of AV deployments;
Set rigorous standards for AV transit on par with commercial driver's licenses, drug tests and FMCSA standards subjected to human operators;
Require human fall-back operators in all autonomous vehicles;
Impose a new mileage-based fee for highly or fully autonomous vehicles to finance a special fund for displaced workers; and
Study and issue biennal reports on the impacts of AVs on transit ridership, capacity and employment.
Save it for weekend reading: "When robots take all our jobs, remember the Luddites" from Smithsonian Magazine's January 2017 edition.
3. The Auto(nomous) Bahn
Click here to speak with our experts and attorneys across the world to learn more about any of the items contained in this week's report.
Subscribe and stay updated
Receive our latest blog posts by email.