Earlier this year, Dentons conducted its first Global Autonomous Vehicles Survey to gain insight into the issues, opportunities and priorities surrounding this evolving industry. By asking important questions about the future of autonomous vehicles, we gathered data that we hope will inform and shape conversations surrounding the future of autonomous mobility. Some of the most significant revelations relate to the technologies' potential impact on the supply chain issues that have caused widespread shortages and price rises around the world.
One contributor to the current supply chain quagmire has been the COVID-19 pandemic. Its impact on businesses and individuals has had a huge effect on the global shipping industry, which has seen drastic slowdowns due to hiring shortages, limited supply and general economic uncertainty. On top of that, the trucking industry in the US is facing a historic driver shortage. Last year, the American Trucking Association reported that the industry was short by 80,000 drivers—an all-time high. Due to turnover without replacement, the association estimated the shortage could double by 2030. Bob Costello, the ATA's chief economist, said, "A thing to note about the shortage is that before the pandemic, we were adding drivers to the industry; even though we had a shortage, more people were entering the industry. The issue is that new entrants into the industry didn't keep up with demand for goods."
This global issue has caused many stakeholders to look for alternative solutions, now and in the future. With fewer and fewer skilled truck drivers on the horizon, the industry needs help if it is to survive and continue to serve the global community. These concerns have brought new attention to the role that autonomous and connected trucking could play in the infrastructure of global transportation and logistics.
A plurality (31 percent) of respondents to our Global Autonomous Vehicles Survey noted that an "increased demand for autonomous solutions to the global shipping/logistics slowdown" has been the most significant impact of the COVID-19 pandemic on the autonomous vehicles industry.
Impact of COVID-19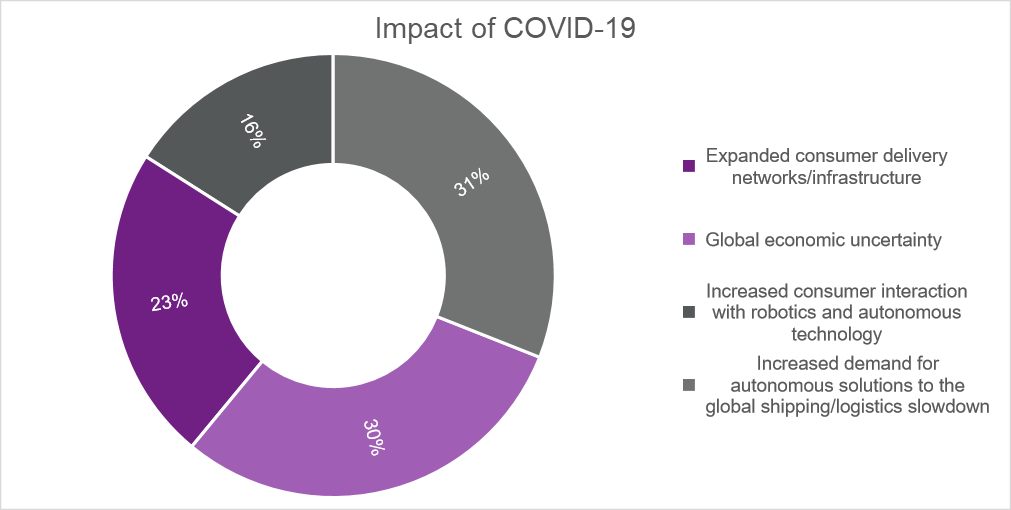 When contemplating the impact of autonomous vehicles, many envision a future where younger generations never need to obtain a driver's license. In the minds of many, the effects of autonomous vehicles are confined to morning rush hours and public transportation. However, while the advent of personal autonomous vehicles will fundamentally change the globe, a plurality (38 percent) of respondents believe that the most transformational use of autonomous technology will be in the area of freight delivery.
Most transformational use of autonomous technology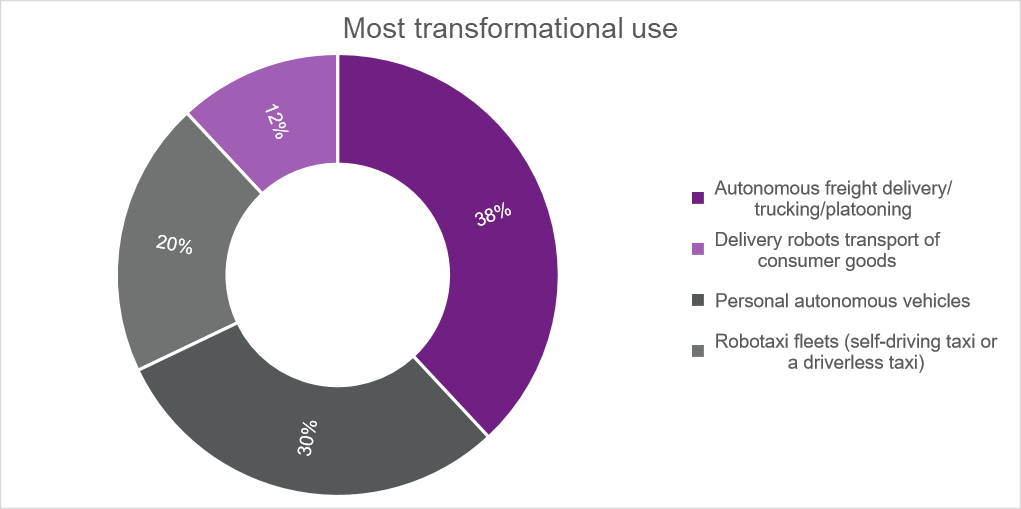 Once connected and autonomous freight trucks are deployed, vehicles and global logistics software will be able to integrate and communicate, the result being a seamless and efficient shipping system capable of delivering goods at an exceedingly fast rate. Additionally, autonomous trucking will allow the freight industry to reach new levels of safety at the individual level and reduce safety concerns related to human error. While truck drivers are generally safe and cautious while on the road, they must be on guard at all times. In addition, drivers need adequate rest to prepare for the unique challenges of the job, and current regulations require that a driver log no more than 11 hours per day. Idle trucks mean longer shipping times and less efficient outcomes. Driverless trucks, on the other hand, could be operating 24 hours a day. Although these trucks might still need a driver in the cab, networks could design systems that take advantage of autonomous capabilities.
Once the shipping and logistics industry is able to fully integrate autonomous vehicles, the effects will be felt by businesses and consumers across the globe. Already some businesses have begun to experiment with drone delivery to consumers. Hypothetically, future goods could complete their middle-mile transport in a self-driving truck before being picked up by an autonomous drone and delivered to a consumer in record time. These developments will have applications for businesses across virtually every industry. Sectors will grow and create a feedback loop by which the advent of autonomous shipping and its efficiency create even more efficient systems in healthcare, commerce and other industries.
COVID-19 has shown that we truly exist in a global society where events on one side of the globe can affect consumers and businesses thousands of miles away. Connected autonomous trucking and shipping will transform the world and create a more efficient exchange of goods across the globe.
Global Guide to Autonomous Vehicles 2022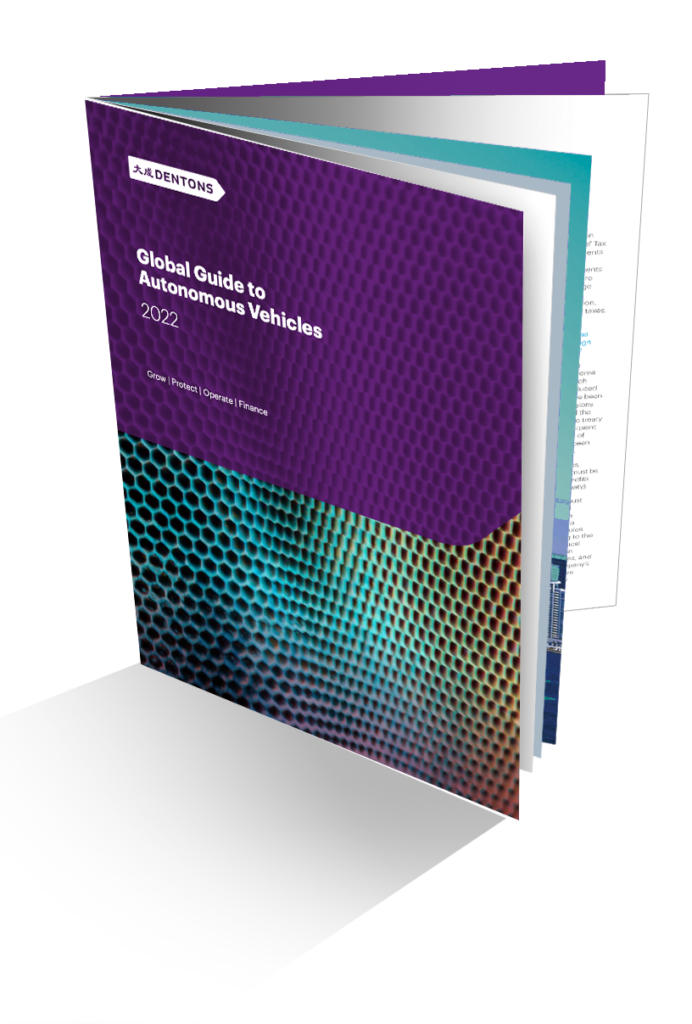 To review the full key findings of Dentons' global autonomous vehicles survey, along with our 2022 global guide to autonomous vehicles, please click here.
Additional analyses of our key findings will be added to the Driverless Commute in the coming weeks.
Questions?
Please contact our authors and co-leaders of Dentons' global autonomous vehicles group with any questions or comments. We also welcome your feedback on any topics of interest.
Subscribe and stay updated
Receive our latest blog posts by email.