1. Urban (not)planning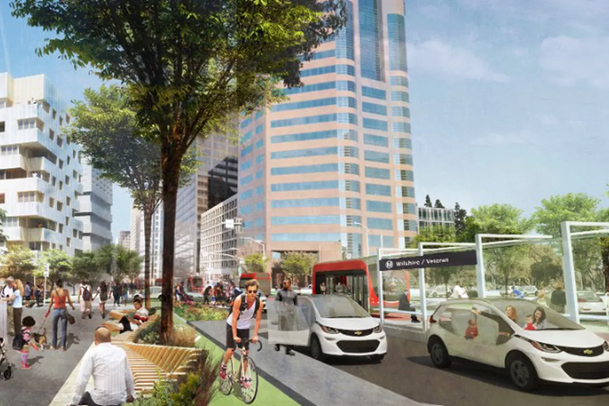 Cities were once highly compact and walkable places that blended residences and workplaces and where people commanded primacy. But that was before the automobile.
Now, the modern American city is nothing if not an ecosystem in service of these two-ton forces of congestion. Add up all the 18-lane highways and surface streets, the sprawling blacktop parking lots and sky-high decks, and you find that more than 60 percent of some cities' precious downtown real estate has been devoted in some way to cars.
Depending on your preferred expert, autonomous vehicles will either reverse or accelerate the very worst symptoms of car-oriented urban planning: congestion, pollution, sprawl.
For traffic-plagued (DC, New York, Los Angeles, Atlanta, San Francisco) and sprawling (Jacksonville, Houston) cities, the stakes couldn't be higher. But a national study of municipal preparedness for mass deployment of self-driving cars published this month in the journal of American Planning Association finds that urban planners have been largely asleep at the wheel.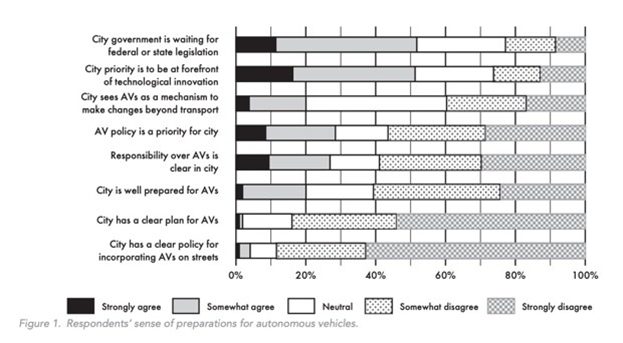 MIT urban planning scholars surveyed transportation and planning officials from 120 American cities with populations larger than 100,000.
Only a tiny fraction of officials said their city is already "well prepared" for AVs, while even fewer said they have a "clear plan" for them.
More than half of respondents said they were waiting for federal or state legislation before they act.
Others said they lacked the specialized planning experience or resources. One respondent wrote simply: "We're a poor city. Introduction of AVs would appear to need significant funding, which we don't have."
The Driverless Commute is provided by Dentons' global Autonomous Vehicles team. If you believe a colleague or associate would benefit from this service, please share this link so they may subscribe.
2. Pre-rules
The National Highway Traffic Safety Administration sent up smoke signals this week that the agency will presently develop a comprehensive, new regulatory and safety framework for autonomous vehicles.
In an advanced notice of proposed rulemaking published in the Federal Register, NHTSA said it's considering reworks of the Federal Motor Vehicle Safety Standards and the Federal Motor Carrier Safety Requirements.
Under current rules, the FMVSS doesn't allow for the sale of cars that lack conventional controls like steering wheels and acceleration and braking pedals.
The agency is interested in how it's supposed to test and verify compliance with crash avoidance requirements in cars that lack conventional controls or seating orientation.
It's also interested whether stakeholders believe the FMCSR, which regulates commercial vehicles involved in interstate commerce, requires a human driver or whether advanced driver assistance systems qualify for CDL endorsements.
3. The Auto(nomous) Bahn
Click here to speak with our experts and attorneys across the world to learn more about any of the items contained in this week's report.
Subscribe and stay updated
Receive our latest blog posts by email.