1. Better beat the mailman home, kids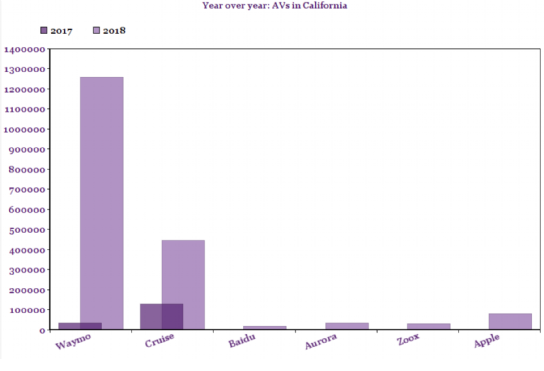 California transportation authorities released this week the state's annual disengagements report, a report card of sorts on each company engaged in autonomous testing in the Golden State.
Under California law, all licensed driverless-car operators are required to self-report to the state Department of Transportation all the instances of human contingency engineers wresting control from self-driving systems.
While it's the most intimate look at the pace and progress of the industry available to outsiders, companies have broad latitude in how and what data they report, so the picture is, at best, opaque.
What we know:
More miles and fewer hiccups. Between the 48 firms licensed to test between December 2017 and the following November, self-driving cars collectively logged 2.05 million miles on public roads in California. That's a huge increase from the previous year's total mileage of 500,000.
As with any class, there are the curve-busters and the burnouts. Waymo continues to lead the pack safety-wise, reporting that its human drivers had to disengage self-driving mode only once every 11,097 miles, a year-over-year improvement of 97 percent.
Cruise is working to close the gap, but that delta is huge. GM's vaunted self-driving unit reported a 320 percent improvement in disengagements, year-over-year, but it still only managed one disengagement for every 5,205 miles. It grew its California fleet from 109 vehicles in 2017 to 194 in 2018.
Apple hit the road last year, finally. The consumer technology giant reported the third-most miles traveled last year, logging nearly 80,000 miles. However, it reported a disengagement rate of 871.65 per 1,000 miles (or 1.1 miles per disengagement), the highest of any firm.
Some caveats to consider:
These reports lack critical information about the nature of the disengagements.
Disengagements are a part of the development and deployment process. Some of these cases could be tests of so-called edge cases, but that information is largely obscured.
On the other hand, because firms are obligated to report disengagements, some in the industry worry that engineers are testing cars in California under only the most basic of scenarios in an effort to avoid possible disengagements and to affect an image of progress.
California is no longer the singular proving ground for autonomous vehicles; many of the companies reflected in the latest report have initiated major pilots elsewhere in the country. Other states with similarly warm, arid climates—Arizona and Florida chief among them—have become breeding grounds for self-driving cars over the past 18 months.
The Driverless Commute, a subscription-based service, is provided by Dentons' global Autonomous Vehicles team. If you believe a colleague or associate would benefit from this service, please share this link so they may subscribe.
2. Mobility cannibalizing mobiilty?
The Dutch affinity for bikes—the Netherlands (pop. 17 million) is home to nearly 23 million, according to the most recent figures—is proving a challenge for the early deployment of platooning technology (i.e., the linking of two or more trucks in convoy) across the country.
The government had hoped to leverage the smart technology on fixed urban routes between Amsterdam and Antwerp and from Rotterdam to the Ruhr Valley, but the complex variable of millions of bikes, which remain king in urban centers, is requiring policymakers to rethink how and where the technology is leveraged, according to a new report by KPMG, which rates countries according to their preparedness for autonomous vehicles.
The report, which actually ranks the Netherlands as the world's best-prepared for the self-driving revolution (by comparison, the US ranks 3rd while China sits at 16th), suggests instead that authorities will have to stick to highways to move freight. It's a good reminder that AV technology can't be leveraged in an identical fashion or mode across complex, unique jurisdictions.
3. The Auto(nomous) Bahn
Click here to speak with our experts and attorneys across the world to learn more about any of the items contained in this newsletter.
Subscribe and stay updated
Receive our latest blog posts by email.