This week Reuters reported that Dan Ammann, CEO of Cruise, wrote a previously undisclosed letter to President Biden urging his administration to support the development of autonomous vehicles. In particular, Ammann encouraged the President to raise the cap on the number of vehicle exemptions per company to the Federal Motor Vehicle Safety Standards (FMVSS). He warned that failure to do so would only hurt US autonomous vehicle companies in their race against Chinese manufacturers. Cruise is a majority-owned subsidy of General Motors that has generated buzz in the AV community for its wealthy and connected backers, including Honda and Microsoft, and its "post-car" designs.
In 2020, Cruise debuted the "Origin," a vehicle designed to move past the car. Unlike traditional motor vehicles, the Origin contains no driver's seat or gas pedals since it is entirely autonomous. Cruise envisions that the Origin will operate as a ridesharing vehicle and its interior simply includes two benches facing one another and screens that display the vehicle's itinerary. Although it is roughly the size of an SUV, it contains no hood or trunk and is oddly symmetrical.
Unfortunately for Cruise, FMVSS requires that motor vehicles contain specific mechanisms like a steering wheel. Although these standards were recently revised to accommodate autonomous vehicles, the Origin would still fail to comply. Additionally, Cruise is subject to particular scrutiny because, unlike its competitor Nuro, the Origin would transport passengers. While the National Highway Traffic Safety Administration (NHTSA) can offer exemptions to companies, there is a cap at 2,500 exempt testing vehicles per manufacturer per year. In his letter, Ammann called this cap a "U.S.-only impediment to building these vehicles at scale in the United States."
While there has been congressional interest in raising the cap, no action has ultimately taken place. For instance, in 2017, both the House and Senate extensively debated bills that would have raised the cap over a period of five years to 100,000 and 80,000 vehicles per manufacturer per year, respectively. Although the House bill, the SELF Drive Act, did pass its chamber, neither bill reached the Senate Floor. Recently, Senators Thune (R-SD) and Peters (D-MI) tried to generate momentum to attach an amendment raising the cap to a bill focused on economic competition with China but were unsuccessful.
Ammann's letter may provide the first true interaction between the Biden Administration and autonomous vehicles. Although the President has been vocal and active in securing more investment into US infrastructure, including electric vehicle and electric vehicle infrastructure, there has been very little mention of autonomous vehicles. In a unique coincidence, one of Transportation Secretary Buttigieg's only comments on autonomous vehicles comes from an Axios event, sponsored by Cruise. At the virtual event, he said that his office's main concern would be safety and that, currently, "the technologies exist to assist drivers, but in the vehicles that exist today, not to replace them."
In his letter, Ammann states that "China's top-down, centrally directed approach imposes no similar restraints on their home grown AV industry." Of course, the Chinese Government has actively encouraged the growth of their AV sector and helped guide its development. In his first address to Congress, President Biden categorized the competition between the US and China as a battle between the adaptability of two different philosophies of government in the 21st Century. He said, "[President Xi JinPing] and others, autocrats, think that democracy can't compete in the 21st century with autocracies, because it takes too long to get consensus." He later said, "In my discussions with President Xi, I told him we welcome the competition." Ammann focused on this global dynamic in his letter, saying, "We do not seek, require or desire government funding; we seek your help in leveling the playing field."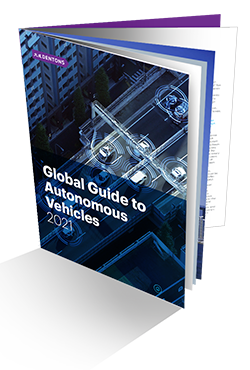 While Mr. Amann's letter was sent on May 17th, it remains to be seen how the Biden Administration will approach autonomous vehicles. Dentons and the Driverless Commute will continue to track the latest developments in autonomous vehicles both in the US and globally. For more information on the global approach to autonomous vehicles, and the Chinese model in particular, check out our Global Guide to Autonomous Vehicles and subscribe to the Driverless Commute.
Subscribe and stay updated
Receive our latest blog posts by email.