Airplane passengers are greeted by the smiling face of a pilot when they come aboard. Those who ride on high-speed trains have the security of knowing a conductor is ensuring they get to their destination on time. Regardless of the automation in those fields, there is an individual present that consumers know is "in control" and whose experience often outweighs their own. When an individual hops into a robotaxi, there may be no one there to greet them and reassure them of their safety. While most travelers have not operated a plane or train, many riding in an autonomous vehicle will have extensive experience behind the wheel. Autonomous vehicles are not only asking consumers to trust them to arrive safely at their destination, but to trust that the ride will be safer and more efficient than any they have experienced in non-autonomous vehicles. Through regulatory oversight and guidance, the autonomous vehicle industry and stakeholders can address autonomous vehicle physical and cybersecurity concerns and allow the public to trust self-driving cars.
Dentons Global Autonomous Vehicles Survey proved that stakeholders and consumers are keenly aware of the importance of consumer safety. When asked to identify the most significant legal/regulatory area to address for autonomous vehicle development, over 70 percent of respondents ranked "consumer safety of individual passengers" as their top choice. This was followed by "cybersecurity of autonomous vehicle and vehicle network." Physical and cybersecurity must be preeminent areas of focus for the autonomous vehicle industry.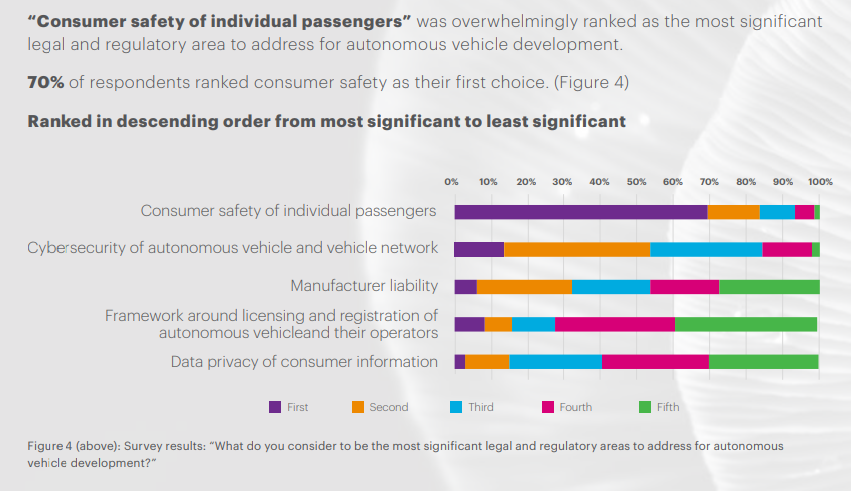 Repeatedly, survey respondents chose to emphasize safety over any other aspect of autonomous vehicle development and deployment. In questions asking about the most important developments over the next 5 and 15 years, most stakeholders chose safety measures over government support, updated infrastructure, consumer education and other vital areas of emphasis.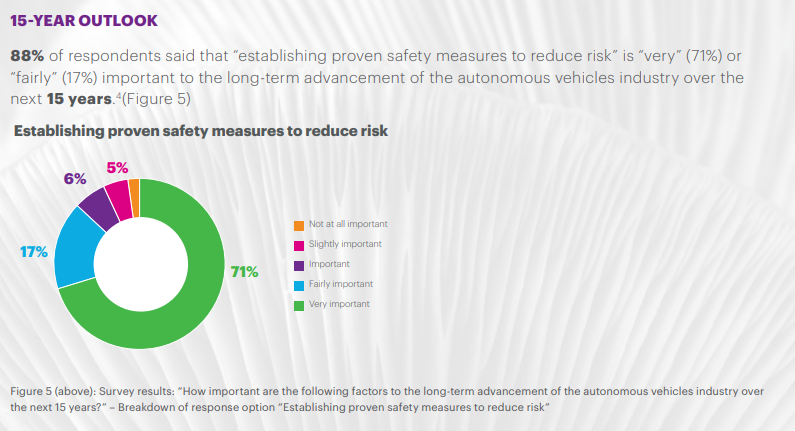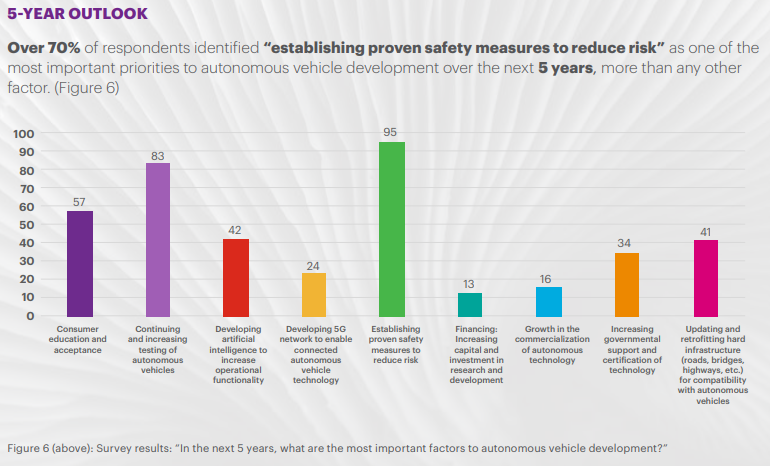 Despite the numerous conversations around infrastructure or sustainability, these results are to be expected. Asking consumers to trust an inanimate object with their lives or livelihoods is a significant request. Stakeholders in the autonomous vehicle industry cannot overestimate the importance of strong physical and cybersecurity safeguards. Autonomous vehicles can revolutionize our society, but they will never reach their full potential if consumers cannot trust they are a safe method of transportation.
Consumer education and acceptance, then, must also be paramount in the campaign toward autonomous vehicles. It is not enough that AVs be safe and secure; consumers must feel safe and secure while travelling. As the industry continues to expand, consumers may become nervous by rare reports of malfunctioning machinery. For this reason, while occasional mishaps are unavoidable, autonomous vehicle companies and test participants must do everything in their power to ensure that consumers are protected at all costs. Additionally, stakeholders must provide opportunities for consumers to interface with autonomous vehicles in a reliable and ordinary setting. As more consumers use robotaxis or pickup their pizza from a delivery bot, the trepidation around AVs will decrease.
There are certain strategies already in play that build consumer confidence and enhance the safety and security of autonomous vehicles, simultaneously. For instance, federal agencies are already creating best practices and policies for the autonomous vehicle industry. By publishing these documents, agencies show consumers that stakeholders are already thinking about how to protect their interests even though level 5 autonomous vehicles are still years away from widespread deployment. When those in the industry collaborate and take these strategies to heart, they show the public that the developers and engineers behind these machines are not careless disruptors, but brilliant minds looking to aid society.
In 2021, the Cybersecurity and Infrastructure Security Agency (CISA), a component of the Department of Homeland Security, released a guide to help companies and industry leaders understand the risks associated with AVs and ways to mitigate those risks. CISA addressed asset-level and enterprise-level attacks and recommended that companies develop employee training and exercises that stress the need for vigilant security and demonstrate the vast interconnected web that guides autonomous technology. CISA also stated that it will assist in conducting vulnerability assessments and distributing tools and resources that point out potential weaknesses. Overall, consistent, and clear communication and collaboration will ensure that all team members stay aware of any threats.
Besides these company-wide practices, CISA urged that vehicles be regularly inspected for tampering and designed with rigorous cybersecurity standards in mind. Vehicle software should be regularly updated, and devices should default to the most secure actions and settings. Employees and riders alike should avoid connecting non-manufacturer or unknown devices to vehicle systems as devices outside of the network could introduce malware to the vehicle.
Meanwhile, the National Highway Traffic and Safety Administration (NHTSA) has published multiple reports that help guide autonomous vehicle companies toward the most safe and secure conceptualizations possible. Recently, NHTSA has stepped up its regulatory oversight of autonomous vehicles, indicating that the industry is growing and increasing toward maturity. NHTSA's increased regulations and investigations will provide developers and stakeholders with needed clarity and bring safety and security to a fast-paced sector. Eventually, these regulations will help to meet the concerns of consumers and develop safe and secure autonomous vehicles. Autonomous vehicles must be safe, reliable, and secure from physical and cyberattacks. Consumers must feel confident that AVs will not only work correctly but will keep them safe. Developers and regulators can work hand in hand to calm the fears of the public though widely distributed best practices and guides. As the public continues to have positive interactions with autonomous technology they will see how autonomous vehicles will improve their lives and create a better, safer world.
Subscribe and stay updated
Receive our latest blog posts by email.